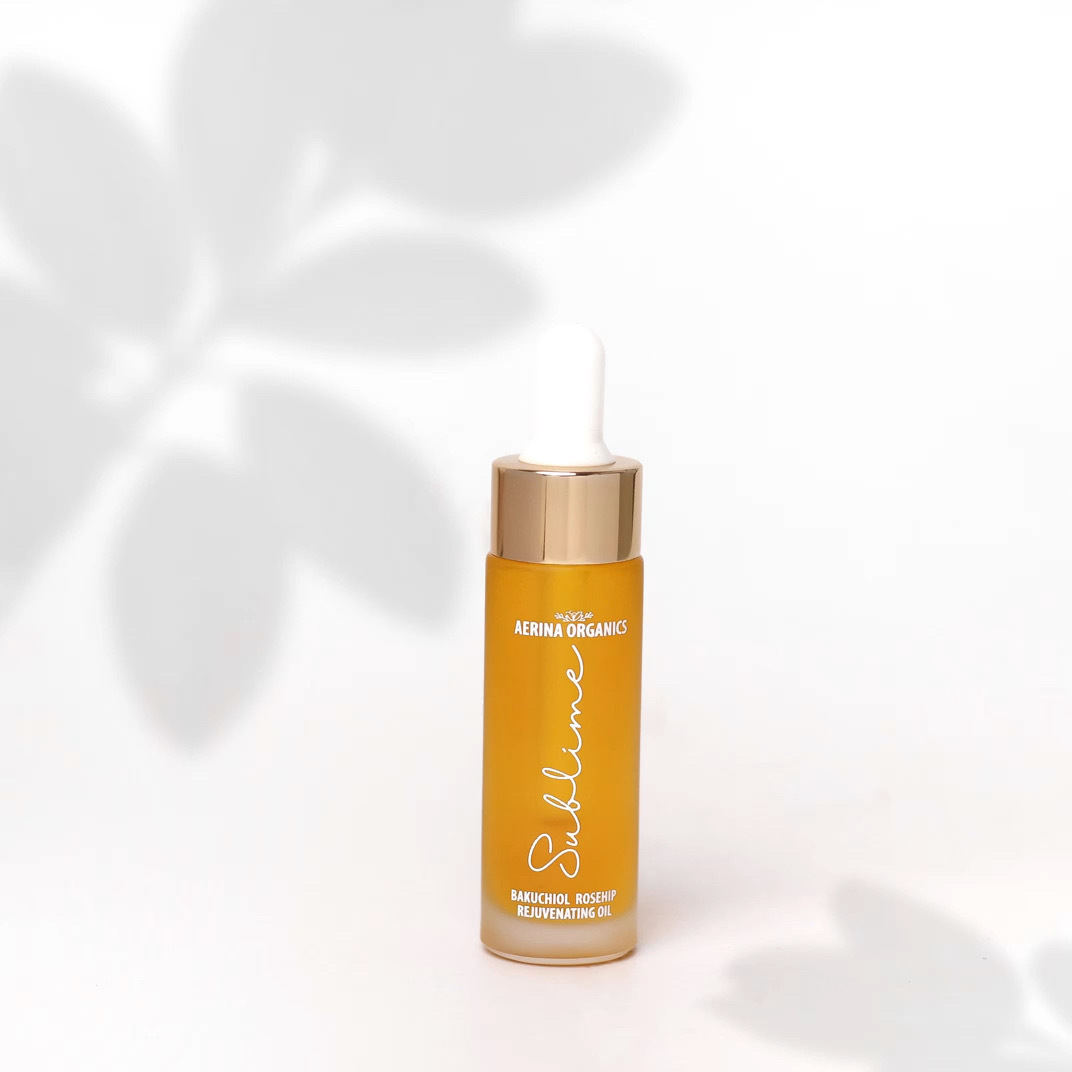 SUBLIME Rosehip Bakuchiol
Brightening, Moisturizing, Anti wrinkle, Anti Acne
Best night anti aging treatment
THE FORMULA
True to its name, Sublime is a beautiful blend of anti aging superstars in clean skincare; Bakuchiol, Rosehip and Immortelle oil. I'd say Sublime as the young again treatment oil.
.

Bakuchiol is a plant-derived non-irritating alternative to Retinol. Bakuchiol is extracted from Babchi oil, a powerful antioxidant that has comparable benefits to retinol without the irritation, flaking and photosensitization. Bakuchiol has been shown to significantly improve the appearance of lines and wrinkles, pigmentation and overall firmness of the skin.

In a base of Rosehip seed oil and Squalane, making it non-greasy, fast-absorbing and highly moisturizing. Rosehip is rich in carotenoids, fight against wrinkles and take care of skin with scars. It is particularly renowned for improving the appearance of skin marked by time or the sun.

With Corsican Helichrysum (Immortelle) oil and Omani Sacred Frankincense, they are both the best blend to regenerate and promote healthy skin cell growth.

Sublime face oil with Bakuchiol, Rosehip and Immortelle is a luxurious treatment, ultra-nourishing, encourages rapid cell turnover and accelerates repair of damaged skin. A total night rejuvenation...wake up to radiant skin!
THE RITUAL
Warm 2-3 drops in the palms of your hands,
then gently smooth and press the oil onto your face, neck and décolleté.
THE INGREDIENTS
Squalane (sugarcane), *Rosehip oil, Bakuchiol, *Helichrysum oil, *Sacred Frankincense oil.
*Organic
Packaging 15ml in frosted glass bottle
Scent Honeyed undertone, the smell of Helichrysum oil with slight citrusy
THE VALUES
Aerina Organics products are made fresh in small batches, thoughtfully handcrafted with clean and ethically sourced ingredients in line with your natural values and healthy lifestyle. 100% vegan, cruelty-free, contain no synthetic fragrances, dyes and harsh preservatives.