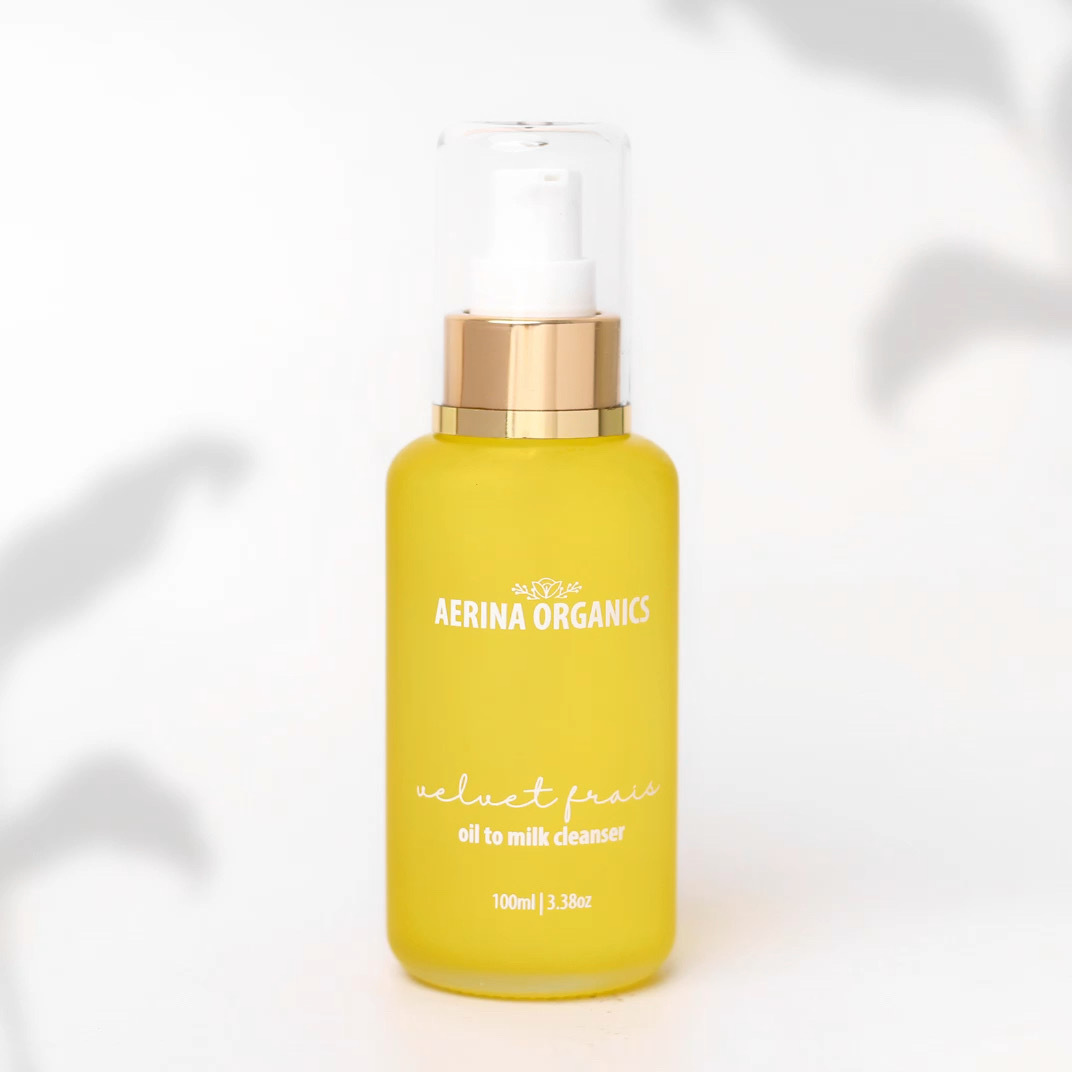 VELVET FRAIS Oil to Milk Cleanser
Oil to Milk formula, 100ml
for Brightening / All skin types
THE FORMULA
Bio Organic cleanser gives slip for relaxing massage, effectively remove makeup and sebum impurities with oil and upon contact with water it transforms to a nourishing milk to leave skin feeling ultra clean, super soft without any greasy residue.
Fermented Papaya promotes gentle, yet effective exfoliation by capitalizing on the properties of the enzyme. Removes the dead skin cells for brighter skin. Turmeric root extract possesses anti-oxidant and anti-inflammatory properties, which are both beneficial in treating acne. Uplifting zesty aroma of Tangerine oil , promotes feeling of happiness
3 IN 1
- Use as daily deep cleanser
- Make up remover
- Mild exfoliator
THE RITUAL
Take 3-4 pumps of the cleansing oil into dry hands. Smooth the oil over your face until your makeup or any impurities have dissolved. Massage well and take a moment to relax. Wet your fingers and emulsify the oil with water, turns into milky texture. Rinse off with water.
THE INGREDIENTS
Rice bran oil, *Castor oil, Polyglyceryl Oleate ,*Papaya oil,*Papaya fermented, *Turmeric extract,*Calendula extract,*Tangerine oil, Vit E tocopherol. *Organic
Packaging Frosted Glass bottle with pump cap
Scent uplifting citrus
THE VALUES
Aerina Organics products are made fresh in small batches, thoughtfully handcrafted with clean and ethically sourced ingredients in line with your natural values and healthy lifestyle. 100% vegan, cruelty-free, contain no synthetic fragrances, dyes and harsh preservatives.