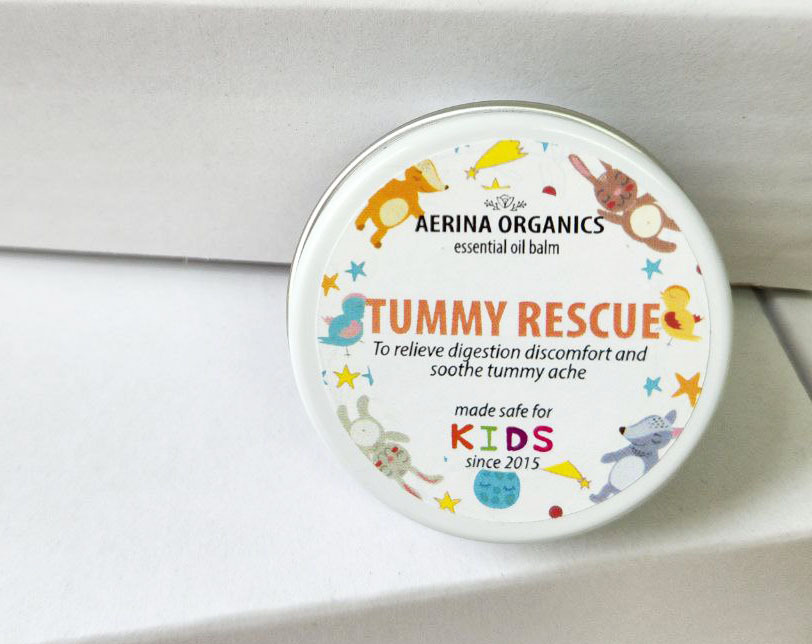 Relief digestion discomfort,
Soothe tummy ache.
TUMMY RESCUE should be the staple blend at home, for that occasional bloating or abdominal discomfort. It is also for toning the digestive system. Stomach cramps alleviated as you gently massage the blend into the stomach area. This is a potent and powerful digestive tonic. My personal favorite in first aid kit!


THE INGREDIENTS
Organic Refined Coconut oil, beeswax
Organic Roman Chamomile, Dill, Spearmint and Ginger essential oil
THE STORY
I made TUMMY RESCUE purposely for gut healing dedicated to my ASD son- he had diarhea daily because of the intestinal lining inflammation.

You can tell if you have gut problem if you have diarhea, skin problem (acne / inflammation / eczema/dermatitis), low immunity. Imagine net leakage in your digestive tract. The damage which allows proteins (like gluten), bad bacteria, and undigested particles to pass into your blood stream. And this cause systemic inflammation (mentioned above)

You should know the gut-brain connection, thus the leaky gut issue also will impact whole wellness and behaviour.

. 🌼BOOST IMMUNE SYSTEM

Following the points mentioned above, immune system originates in the gut. In order for us to be vital and healthy, we have to have a strong digestive system full of good bacteria. Gut health is a big deal. I always suggest you to pair TUMMY RESCUE with IMMUNITY blend. Because they are synergies system for immunity.

🌼 GAS, BLOATING OR CRAMP

Did you ever had that occasional stomach ache? It could be very annoying especially when we are on a trip (away from the loo). TUMMY RESCUE soothes and balances the digestive tract and promotes healthy elimination. It is helpful for occasional bloating, feeling gassy and alleviate that feeling of fullness.
Oh try one and you will understand how important this blend is in your first aid kit. I bring this always in my handbag.
HAPPY PARENT