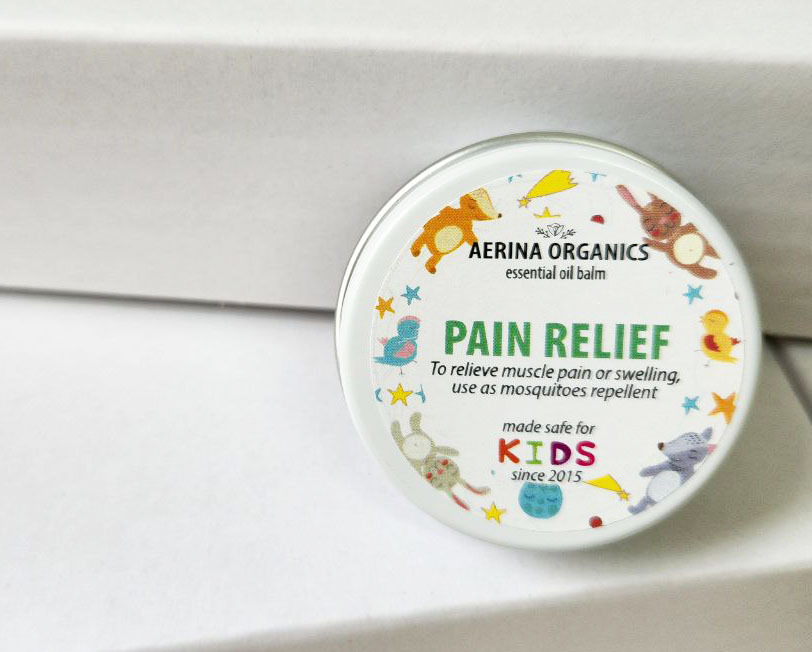 Soothe muscle ache,
Mosquitoes repellant.
Active kids are smart kids. Fall, get up and march again! Use PAIN RELIEF blend for bruises and swelling, and for adult it is powerful for muscle and bone ache. You'll be amazed!
Bonus, bugs and mosquito hate this blend.
THE INGREDIENTS
Organic Refined Coconut oil, beeswax,
Organic Citronella, Black Pepper, Palmarosa, Lavender, Rosalina and Geranium essential oils.
THE STORY
PAIN RELIEF is a special blend. It is strong but gentle. It eases occasional muscle or joint overuse, bruise or swelling which can occur for active kids. It also use as bugs and mosquitoes repellant.
I made this blend years ago in Summer when the hiking trails are irresistible, so much when the wild flowers were blooming and of course, with the present of insects and bugs. Those years I still back-carried my baby, so at the end of the trails some post-hiking pain need to be dealt with. PAIN RELIEF is a great oil for outdoor activities.
The properties of this blend is antispasmodic as the Black Pepper oi gives good relief for cramps or muscles pulls. Citronella oil helps to improve circulation and eases the pain of aching muscles. Remember, insects and bugs hate Citronella. Citronella is an all natural insect repellant but you need to reapply about every 30–60 minutes for its bug-repelling effects to last.

I also received lots of reviews from adults. It is really my husband's favorite oil for back ache, stiff neck and all pain and soreness.
HAPPY PARENTS